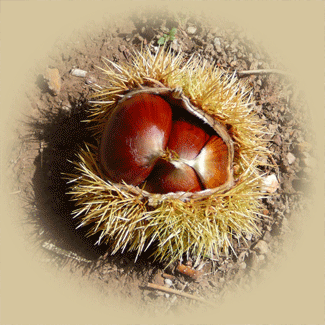 South Australian Chestnuts & Produce
Adelaide Hills Fresh Chestnuts uses chemical free, sustainable farm management practices to produce a range of quality fresh seasonal produce.
We have an established reputation among chestnut lovers and connoisseurs for supplying a quality range of chestnut varieties, but our expansion into growing produce such as hazelnuts, figs, quinces, tamarillos, feijoas, white sapotes and pomegranates is now being appreciated by a wider range of gourmet and natural food lovers.
Our 2022 Chestnut season has begun. We look forward to seeing all our customers again in 2022 at the Adelaide Showgrounds Farmers Market from April 10th and occasionally at our own Farm shed door. Check for the latest information and updates on our Facebook page.
In season our produce is available on Saturdays at the farm shed. See our produce list to see what we grow.